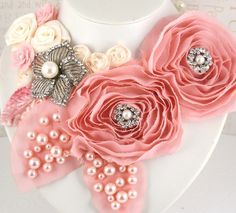 If you love beautiful fabrics and wearable art, then you're going to love what Big Z Fabric has to share today. The latest fashion jewelry trend that we've seen lately are women's fabric bib necklaces made from various unique and colorful fabrics. This creative and feminine necklace often uses satin rosette to make a floral bib pattern. Many times the necklace is enhanced with rhinestones, pearls, and other jewels to embellish the rosette flower necklace. This is an easy way to transform your casual look with a statement-making necklace.
You can make a brilliant and beautiful style statement with a bib necklace and let it take center stage. The necklaces are lightweight, easy to make and wear, and will spice up any outfit.
All you need to do is hand roll fabric to make rosettes and double back the rosette pieces with soft felt so they are sturdy and durable. The creation is so simple and so elegant.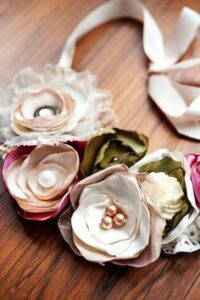 Some of the fabrics we love to create the rosette look for a fabric bib necklace is Big Z Fabric's Solid Shiny Bridal Satin Fabric in coral that is luxurious, soft and shiny. The satin fabric is made from 100% polyester with a shiny finish. The fabric, which is $4.99 a yard, is of superior quality and the color is bold and bright, perfect for a statement necklace.
A nice contrasting fabric to add embellishment to your necklace creation is Big Z Fabric's Floral Fashion Eternity Dress Sequins Lace Fabric in Champagne ($21.99 a yard). This fine fabric has small sequins sewn on to add a little bling and glamour to your creation. The sequins add just the right amount of sparkle and elegant shine.
Create your timeless, high-fashion fabric bib necklace and let Big Z Fabric be your source for unique, trendy, and quality fabric for your design.