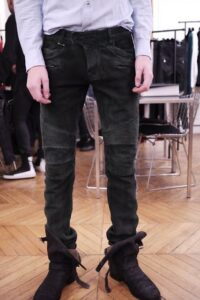 Winter time is here and there a few "must-haves" for the season. Securing winter garments such as a biker pants is of great necessity and this applies despite the gender. Biker pants are quite appropriate clothing for the winter season as they provide protection from the cold weather and are a stylish option to denim pants.
Big Z's no stretch winter suede fabric is ideal for making biker pants as it makes excellent protective wear and provides resistance to the elements. Suede lovers can make full application of this fabric to make regular jeans wear as it gets the style done just the same. It has the additional bonus of ultra-durability coupled with its easy to clean characteristic. These Winter Suede Fabric biker pants will definitely be an asset to have in the closet as the temperatures drop.
Winter Suede Fabric is made from 100% Polyester fiber and is known to be a softer fabric that still maintains its strength and versatility. This qualifies it for many uses such as jeans clothing, shoes and bags, as well as drapery and upholstery. It is also available in an assortment of unique colors such as aubergine and canary, along with standard colors such as black and brown. This top quality fabric is available for purchase at a width of 58 inches and is sold by the yard.
Buy Now >> Suede (Microsuede) Fabric