Welcome to the Big Z Fabric sewing blog! Over the next few weeks, we'll be making a three piece winter set –scarf, hat, and bag. You are welcome to do one or all three! I'll give you requirements for the whole set, and also for the individual items so that you know how much to purchase.
Requirements for three piece winter set:
Note: I recommend you choose your fur and vinyl first. You will have many more options for fleece and lining, so they will be easier to match. All of my fabrics are available from https://BigZFabric.com.
This scarf is part of our Winter Apparel combo.  We used 4 types of fabric in this project which includes a hat, a scarf, and a winter bag.  For these three projects we used the following Big Z Fabrics:
DIY WINTER FABRIC APPAREL NEEDS
For the total 3 part project you will need the following:
1 yard 54-60" wide fake fur – we chose Faux Fake Fur Arctic Alaskan Husky Long Pile Fabric / Gray .
1 yard vinyl – we chose DuroLast™ Vinyl Faux Fake Leather Vinyl Grain Champion PVC Fabric / Chocolate.
1 yard 54-60" wide fleece – we chose Fleece Printed Fabric / Scott Checkered Color #7. This plaid really coordinates with our fur and our vinyl
1 yard lining – we like to use duck or canvas for stability, but you can also use a quilting cotton. We chose Solid Cotton Duck Canvas Fabric / Dark Brown.
Scissors or a rotary cutter and mat
Measuring tape or ruler
Thread
Sewing machine
DIY SCARF FABRIC NEEDS
Today we will be focusing on the scarf. We'll keep you updated for the next in the series soon:
Scarf Requirements:
¼ yard of fur (9" by width of fabric)
¼ yard of fleece (9" by width of fabric) (extra 6" needed for pompoms)
Scissors
Thread
Sewing machine or needle and thread
Important!: You can pre-wash the fleece if you'd like, but I don't recommend washing the fur. You can spot clean as necessary.
NOTES ON CUTTING FUR:
Faux fur should be cut in a single layer from the wrong side. Lay your fabric flat. Use a felt tip pen to draw your cutting lines. Then you can either use a sharp knife (like an Xacto blade) or slide your scissors UNDER the fur so that you are only cutting the backing. This way, you minimize the mess and maximize the amount of fur on your project.
Step 1: Cut the fabric
Cut one piece of fur and one piece of fleece 9" by the width of fabric. The width will be anywhere from 54" to 60" wide. If one of the pieces is wider than the other, trim it so that they are the same size.
Step 2: Sew the first seam!
Place the fur and the fleece right sides together. Pin it in
place. Be generous with the pins as the fabrics will tend to slide
against each other. I like to pin every 2.5-3". Stitch down both of the
long sides, with a 1/2 – 5/8" seam allowance.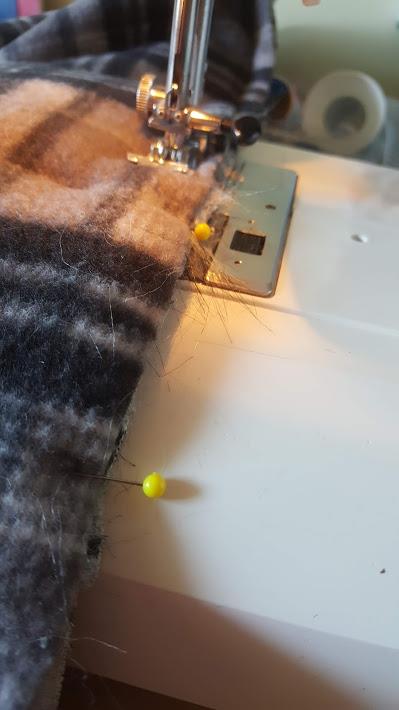 Step 3: Flip your fur
Slide the tube you've just sewn over your hand and up your
arm. Keep sliding and scrunching it until you reach the other end.
Grab the fabric at that far end and pull it all the way through to turn
your scarf right side out.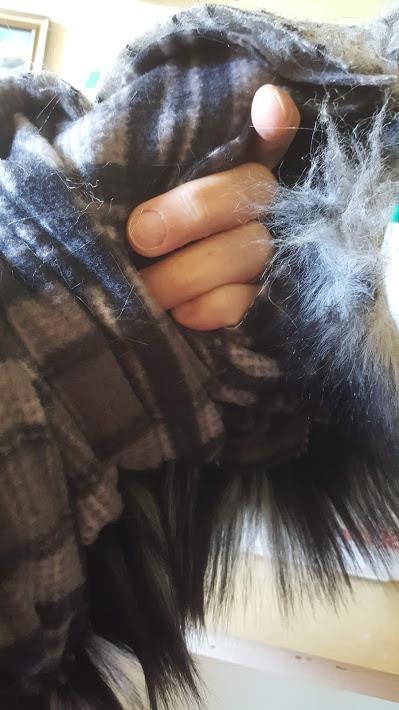 If you find that you have fur caught in the seams, you can use
tweezers or an awl to pick them out. (see image below)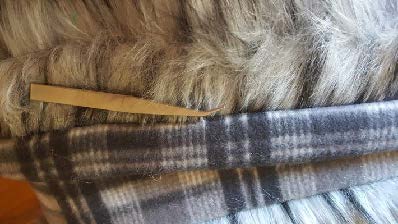 Step 4: Stitch the ends
First, tuck the raw edges to the inside of your scarf and pin or baste in place. Now you have THREE options!
For a rectangular scarf, just sew the ends shut (A)
For a shorter scarf with hand warmer pockets:

Stitch ends straight across. Then turn ends up 6-8" to create pockets. Hand stitch down both sides of the pockets. (B)
To add fur pompoms: Run gathering stitch along ends and pull tight. Stitch in place. To create pompoms, cut 2 circles of fur 6" across. Run gathering thread around the edge of the circle and pull tight. Stitch the pompoms to the gathered ends of your scarf. (C)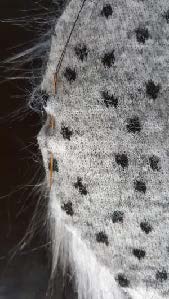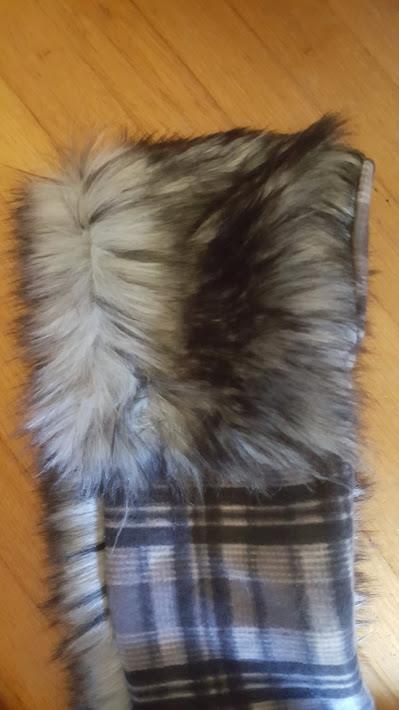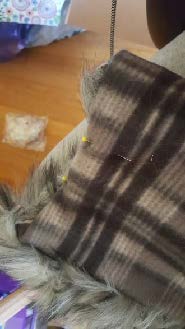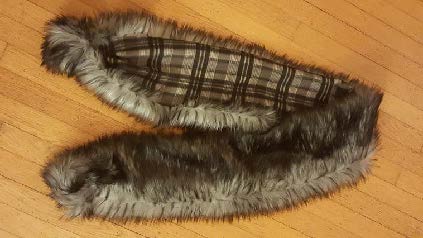 Stay tuned for upcoming blog posts to find out how to make the matching hat and bag! You'll turn heads in this combo for sure.