We realized that fully 15% of orders were made up of 10 yards or more in fabric at a time this year. Earlier this year when we launched our website we quickly realized that our customers were trying to find more information while shopping. One of the most frequently asked questions that we encountered was what the pricing of fabrics was when ordered in bulk. We loved the feedback and quickly implemented our Tiered Pricing system built right into our online store.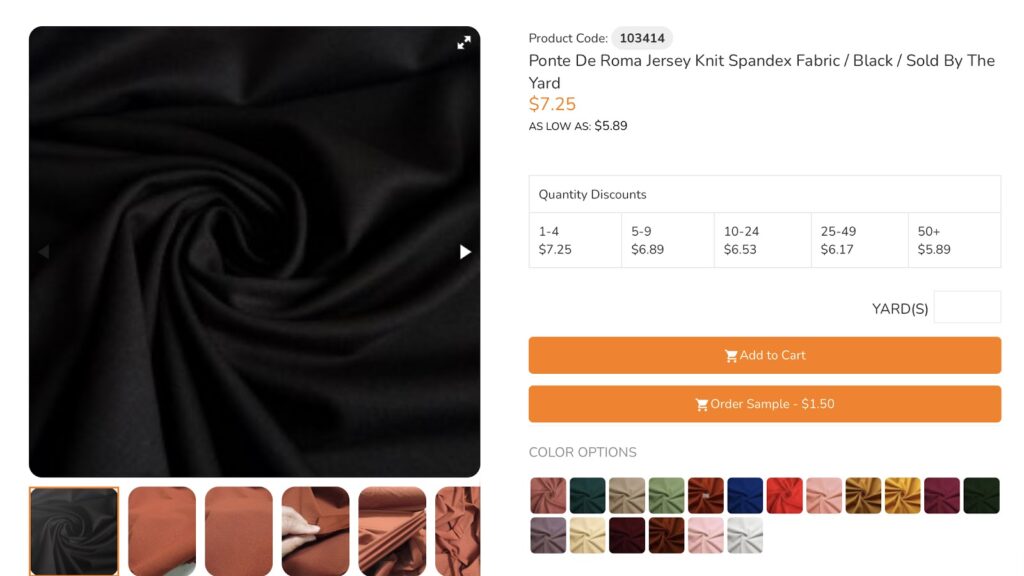 This update helped our customers decide on how much to purchase at a time and plan for future projects or needs. The feedback was welcomed and we were happy to have delivered a meaningful shopping experience improvement.
Price Savings Wasn't Enough
We knew we were missing something though. Yes we could show the price savings to our customers more easily but they still had questions about wholesale and bulk pricing in general. So, we went to work and started developing a new product information tab for all our fabrics. The hope here is to help our customers understand the dynamics of the fabric they are ordering and how wholesale pricing may affect their order, how ordering on the roll works, and shipping considerations may change.
With that we are excited to announce that our website is being upgraded to incorporate wholesale and bulk purchase customers more naturally. We are enabling a new product level informational tab on our product pages that will outline some of the most important information for those looking to buy in bulk. We are hopeful that these details will help your purchasing decision process more conveniently. With that said, we are still hopeful you will reach out to our staff to discuss your specific questions and needs if as needed.
Wholesale Fabric Product Updates
First we are introducing an easy to understand way to view how many yards of a fabric will qualify as a bulk or wholesale purchase and therefore when the best pricing for you will kick in. This may differ depending on closeouts or warehouse stock dwindles but we provide this for you to understand that you may be getting wholesale customer pricing.
Next, we have outlined the exact or typical range of yardage that will be on any roll you order. Some fabrics are manufactured in a way that lends themselves to very consistent yardage on the roll but some may vary by a few yards here and there. When we go to pack your order for shipping we will confirm the yardage on the roll and if it looks to be outside the typical tolerances we will notify you to either the savings or extra costs that need to be applied.
Finally, the new wholesale tab on the fabric product page will include freight shipping information by the fabric type. This will help you plan your purchases and budgeting for your needs. We are hopeful that this information will allow you to build your order more efficiently and offer the best pricing and fastest shipping.
As you're shopping our site keep an eye out for this information. Ask us about our wholesale purchasing options and benefits as well if you think you may be better served through that program as well.
We hope you will find this information useful and helpful. As we enter into the next phase of our shopping experiences we think more updates like this will make Big Z Fabric the best online fabric store in terms of functionality, pricing, and customer service. Stay tuned for more updates!