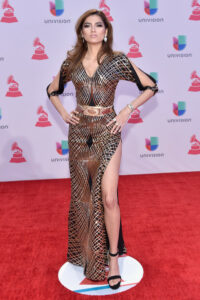 Are you in need of a classy, formal dress but can't find anything in the stores that would be worthy of the cause? Why not make one? It's easier than you think and you can buy the perfect material right here on our website. Make a dream dress that fits your body shape. It will be a better quality than store bought attire and just the right style that you prefer. You can also make it for a fraction of the cost of the exorbitant department store clothing prices.
Our Unique Diamond Sequin Fabric is perfect for this project! This material holds such class and distinction that other fabrics pale in comparison. It is made of 100% polyester making it light weight and extremely easy to sew. It has a mesh backing and contains a two way stretch allowing it to move and bend with you. The front is covered in sequins! We offer this high-quality material in eight different colors to choose from giving you plenty of room to choose the color that best fits you and your occasion. It also comes in a convenient 49/58 inch width making it perfect dress creating material.
This fabric is sold in continuous yards. Make a stunning floor length gown or a flirty knee length formal dress. For extra class use some of this gorgeous fabric and make you a handbag to match your gown. An evening shawl or jacket would also be beautiful and really set off you whole outfit! Why not use it to make some elbow-length evening gloves?
Not a dress person? This fabric also looks magnificent when made into a skirt and top combination. You just can't go wrong with this fabulous fabric!
Buy Now >> Unique Diamond Sequin Fabric