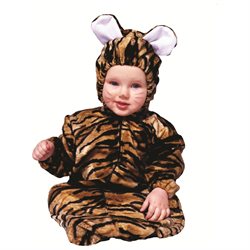 Zebras and Tigers and Leopards! My, oh my! And those are just a few of the animal prints we have on sale! Our Velboa faux fur fabric makes the perfect Halloween costume. Hand crafted costumes are durable and last year after year. You can customize them for originality to fit your individual likes and needs. Our Velboa fabrics are perfect for your project. All you need to do is add the creativity!
Our Velboa Faux Fur Tiger print makes a great costume for kids. We have four tiger prints to choose from. The fur is a soft, warm, high quality short pile faux fur that is realistic looking. Just the thing for children's zip-up tiger costumes. Make a basic suit or add the ears and tail-the choice is yours and easier on your wallet than the expensive pre-made costumes that you find in the store. Make one for yourself or use it to make a jacket or hoodie for an adorable parent/child costume duet.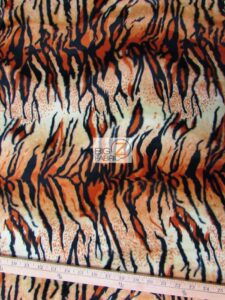 Our fabric is sold by the yard to insure you get as much for your costume that you need.
Our Velboa Faux Fur is 58/60 inches in width and made of 100% polyester. It is durable and strong. Great for kids to play act in and for Theater Costume Departments!
We are your one stop shop as we have over forty different animal prints in our Velboa fabric line to choose from. We also offer super-fast shipping to insure you get your material in plenty of time to make your costume before Halloween!
Our Velboa fabric is now on sale! It comes is various colors and prints to choose from-all perfect for Halloween costumes! No matter the costume you need-we have the fabric for it!
Buy Now >> Tiger Velboa Fabric