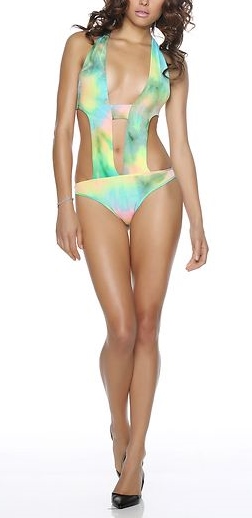 Get ready to hit the beach or pool in style with a new, fashionable swimsuit or swim trunks. As summer has arrived it's time for pool parties, beach vacations and swim parks. Swimwear has definitely evolved through the decades and it seems that nowadays females are wearing less and less fabric at the beach or pool. However, there are a variety of designs and ideas you can create when it comes to swimwear. Think of the bold red bathing suit and swim trunks that made an impact on Baywatch as the lifeguards ran down the beach to save a life. That started a trend for red, high-cut bathing suits. And no one looked more perfect than Bo Derek in the movie "10" wearing a tan/nude one piece. Whatever your creation for swimwear, don't be afraid to make a statement.
Big Z Fabric has a variety of colors and patterns in spandex and nylon to create swimwear, or any other active wear. You can also browse our site for swimwear liners.
One of our favorite swimwear fabric is our Holographic Dotted 70's Apparel Spandex Fabric, available in five, bright and shiny colors and sold online for $18.99 a yard. This fabric is made of 90% nylon and 10% spandex, making it a perfect combination for the water.
We also love our spandex collection of Small Dot Confetti Sequin Spandex Fabric in white and royal blue, available online for $17.99 a yard. This shade is the perfect hue for the beach and the blue ocean water. This fabric has a four-way stretch and is made up of 80% nylon and 20% spandex. Our small polka dot fabric comes in six bright and beautiful colors that will be perfect to create a bikini or even board shorts to make a bold statement.
Swim outside the box and let Big Z Fabric be your source for unique, trendy, and quality fabric for your swimwear needs.
Browse Collection >> Spandex Fabric