Adding an awning to the home not only adds to its aesthetic value but is also great protection from the harsh weather elements. Nothing beats enjoying a cool drink under the shade of a beautiful awning in the hot summer months.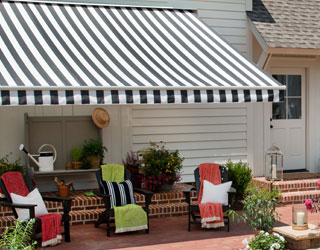 Our 2 Tone Stripe Deck Canvas Outdoor Waterproof Fabric is a durable outdoor fabric that is an excellent choice to make the perfect awning for the home. Whether it's for the front or back porch, or to give extra shade for the windows, this is a very cost effective fabric that has many outdoor upholstery uses. It can be used for outdoor furniture, porch covers, outdoor cushions, pillow casings, outdoor umbrellas, boat covers, and almost any outdoor use.
Made from very unique fibers, the color is fade resistant and is guaranteed to stay bright and beautiful even after prolonged exposure to the harsh conditions of the sun. This fabric has a stripe style pattern that is available in aqua/white, olive/ivory and many more combinations. The 2 Tone Stripe Deck Canvas Outdoor Waterproof Fabric is a synthetic product that has no stretch. However, it is a strong material that is 100% waterproof giving full protection from the rain. The width of the fabric is 60″ inches, and it is sold by the yard and in continuous yards.
Buy Now >> 2 Tone Stripe Deck Canvas Outdoor Waterproof Fabric