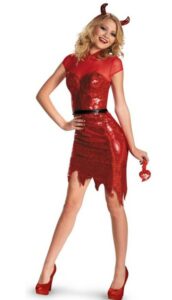 The Micro Disc Paillettes Sequin Spandex Fabric is new to our collection, but when it becomes the sexy Sequin Spandex Devil Halloween Costume it's definitely a show stopper! What better way to add a little fire to the fright than with a sexy Halloween costume.
Of course the sexy devil is usually one of the first designs that pop into people's heads and for this the shiny red color is the obvious choice. However, with such a wide array of colors, it's very easy to get carried away with crazy designs using colors like lime, mango, matte beige, matte gold, matte pink, orange, powder blue, and purple. In the shiny section, you can find shiny black, shiny charcoal, shiny charcoal, shiny green, shiny silver, and shiny teal – all great choices for costume design.
The sequin discs are set on spandex backing, which gives the fabric two-way stretch and make it the perfect choice for sexy, body-hugging Halloween dresses. It can also be used to make gowns, shoes, dress and clothing linings, handbags, clothing accessories and many other items. Available in a width of 54"/55" inches, Micro Disc Paillettes Sequin Spandex Fabric is sold by the yard in continuous yards.
Buy Now >> Micro Disc Paillettes Sequin Spandex Fabric