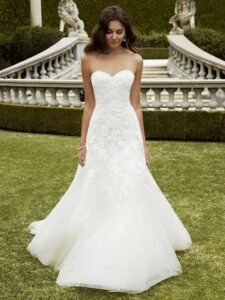 Here comes the bride, all dressed in… white, cream, blush? Wedding is almost here, well it is always wedding season, and we can't wait to see you walk down the aisle with your beautiful creation from Big Z Fabric. Imagine the glory of creating your own gown, made to perfection, of what you envisioned as a little girl.
If you need major wedding dress inspiration, we are here to make that dream a possibility for you. From lace classics to blush and ice blue gowns, we have the glamorous fabric to help you create fresh new trends or classic looks. Don't skimp on details that make a wedding gown such a special piece of work. Imagine the beauty of a gown made of organza tiers, beading and a flowing tulle skirt. Or imagine a clinging, body-hugging satin dress embellished with delicate lace and a sweetheart neck line. We love the feminine mermaid gowns that accentuate an A-line silhouette. Opt for a full length skirt along with an embroidered sheath to create a more formal and traditional wedding look. The possibilities of your creation are endless. But we at Big Z Fabric want to know that we were part of your special day!?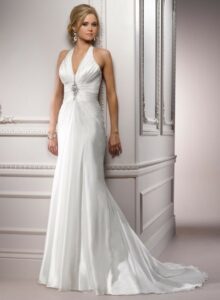 Check out our Grove Lace Fabric in white, that is a high quality lace with flower patterns that are made of high quality stitching, giving the lace a great finish. This is a perfect option at $16.99 a yard for your wedding gown. Or try out the stylish Floral Decorative Sequins Lace fabric in white that is a new design added to Big Z Fabric's collection. This fabric is a very light type of fabric that comes with detailed cord floral designs and shiny sequins all over the fabric. We also love the classic Solid Shiny Bridal Satin Fabric which offers a smooth, shiny, beautiful type of fabric that will make your gown look classy and glamorous. We have a variety of options for creating your own veil and other accessories.
Show off your imaginative skills creating with one-of-a-kind wedding gown and share them on Big Z Fabric's Facebook page for the opportunity to get future discounts on fabrics! We can't wait to see what a beautiful bride you will make!
Buy Now >> Quality Fabric For Wedding Dresses