Planning a birthday party for your children can be both fun, exciting and stressful. There are so many creative ideas you can find on the internet to make the day even more special and memorable. Every little touch that you add will add to your party décor. Big Z Fabric has lots of ideas for your child's big day and hundreds of thousands of fabrics for you to sift through online to make those ideas come to life.
The latest and most popular fabric idea is a cake bunting topper. These mini cake toppers can be made of fabric and can spell out "Happy Birthday" or the age and include the name. This is a perfect way to decorate a cake or even a dessert table.
Big Z Fabric also recommends making torn fabric rag garland or banner using silk ribbon and fabric. This easy creation is colorful, festive and beautiful. All you have to do is pick a few patterns of your favorite fabric from Big Z Fabric and cut it into triangles that you can just string onto the ribbon. This can be a wonderful and colorful backdrop for photos with the family. This idea can also be used to create a shabby chic birthday fabric banner for a first birthday to attach to a high chair for an adorable smash cake session. The same torn fabric stringed garland can be attached to the food and dessert tables to add to the festive decorations.
Some other great ideas using Big Z Fabric for a child's birthday party:
– Vintage tea party photo session to include lace table cloths, homemade quilts,
– Photo or photo booth props which include masks, boas, moustaches, lips, etc.
– Festive, chic birthday party hat
– Decorations, such as tulle pom poms
– Tutu skirt made of lace or tulle with a matching headband
– Birthday party bags with matching ribbon
– Fairy wand birthday favors
– Birthday fabric flower hair clip
– Birthday fabric bowtie
– Birthday theme costumes
– Birthday puppets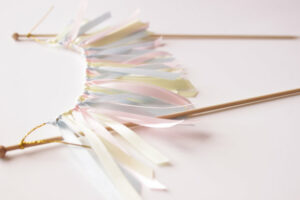 Some fabrics from Big Z Fabric we suggest for these birthday party decorations and crafts are Solid Charmeuse Silk fabric which is lightweight, luxurious and soft. It is made from silk with a satin finish. This available in a variety of colors, we love the pink for a little girl's tutus or cake bunting toppers.
We also like the festive 100% Cotton Quilt Novelty Prints "Party On" Fabric in Birthday Blue available online at Big Z Fabric. This fabric is very beautiful and a high quality piece which would be perfect for a fabric bowtie or used to decorate a dessert table since the fabric is full of birthday cakes. This fabric is also very light and soft to the touch.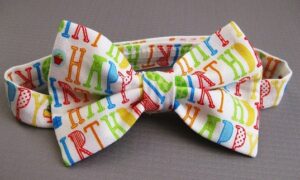 Another cool idea is to create a personalized girl or boy fabric chair cover using various fabrics such as felt that can be used each year. The best part is that all these creations we mentioned above are reusable and can be given to friends or family after they will love the look of your party. Have a wonderful time celebrating. And don't forget to call us if you have any questions about our fabrics at 213-745-BIGZ (2449)