We hope this post will help you plan your next fabric purchase. We realized that since we sell fabric by the yard and that is how everyone orders it was important for us to make sure customers could better plan their purchase. There is at least 1 additional dimension to every fabric aside from its length… and that's the width! This seems obvious but give a moment to help put this into context.
Most fabrics are sold by the yard and come in 60″ width
Only a small portion of our fabric store is available by the foot (and none by the half-yard). Namely our Bonded Neoprene is available by the foot. Everything else is sold by the yard. Furthermore, almost all of our fabrics are sold with a gross width of 60 inches. Perhaps we should take a moment to definte some terms for this post moving forward.
Yard: 36″ or 3′ (inches/feet respectively)
Gross Width: Width of the fabric that is cut and delivered prior to any cutting or use.
Net Width: The usuable width of our raw fabric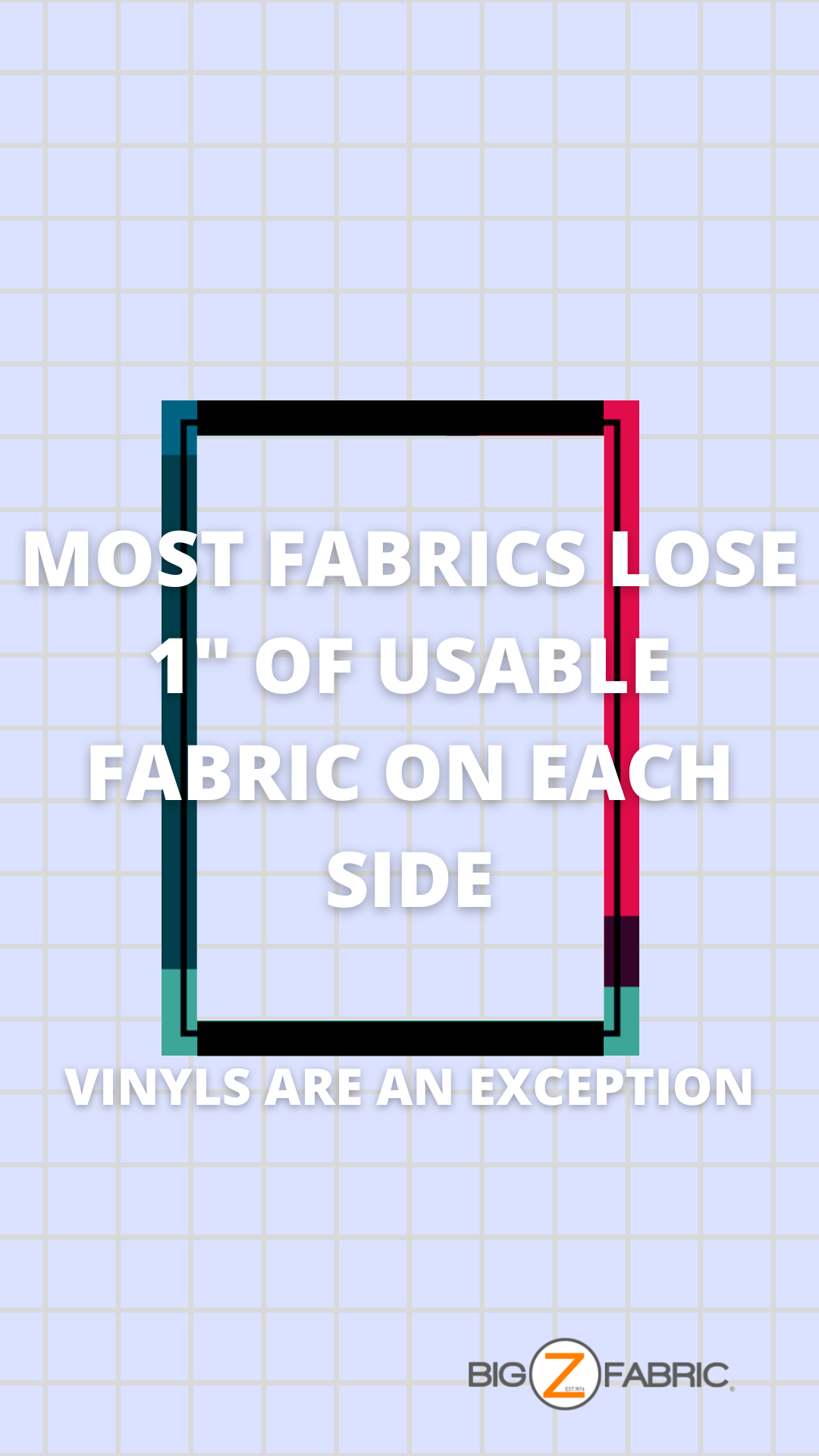 In the graphic above we show that the sides are what we are considering here. You can assume for the sake of this graphic and all others in this post that the customer has ordered 1 yards of fabric. So this would make their overall shipped fabric dimensions 36 inches x 60 inches.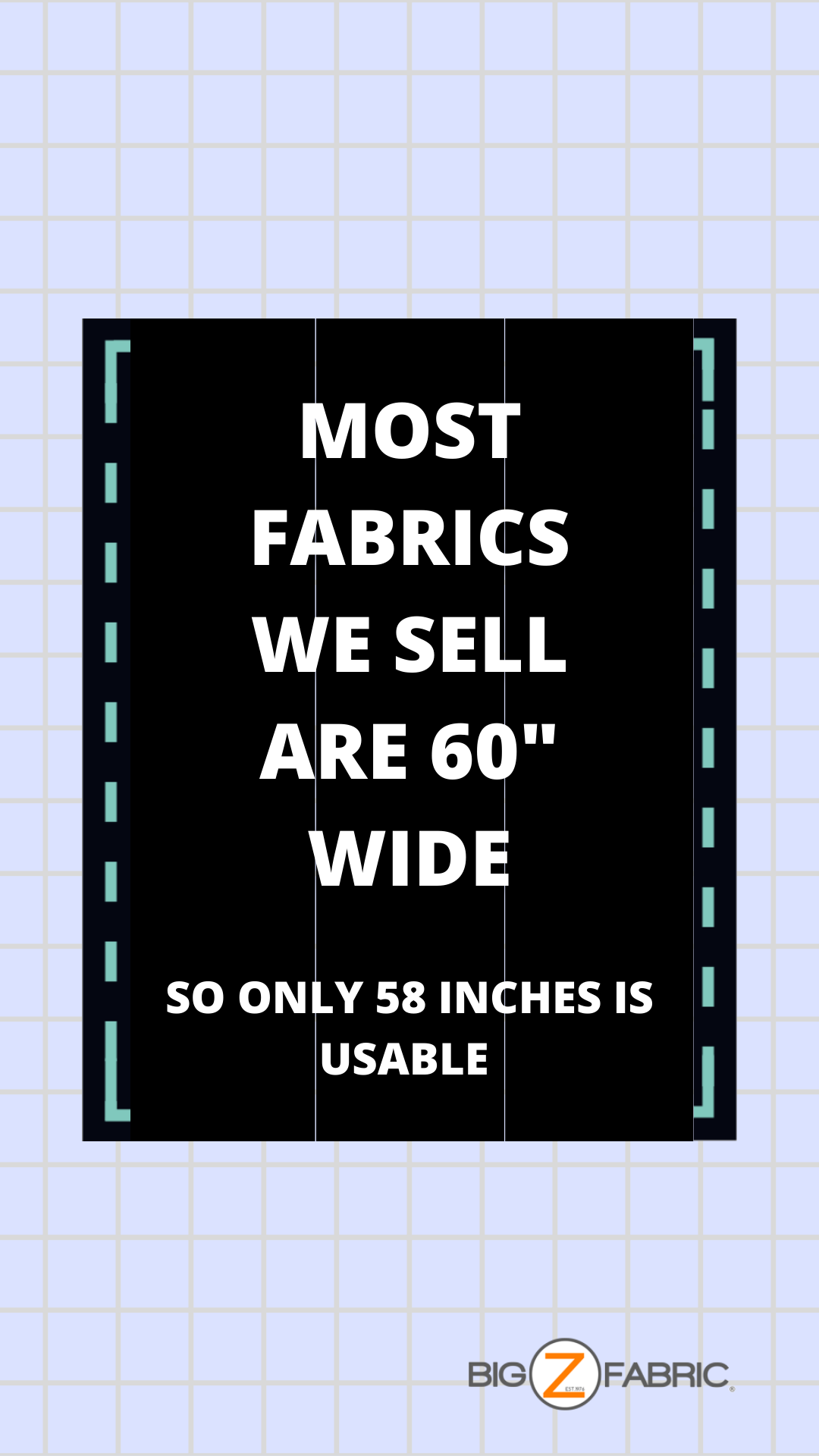 However, the edges of the fabric are typically unfinished and would not make for a great edge in most use cases. We should note now that our Vinyl Fabric is an exception and due to its unique properties you can use the full width of the fabric! Vinyl only makes up a fraction of the fabric we sell though, so it is most likely that you will have to do something with those unusable edges. The unusable width is typical about 1 inch… on each side of the fabric. So combined you would lose 1″ on the left width edge and 1″ on the right edge width. This results in a 60″ wide fabric minus 2″ giving the customer 58 inches of usable fabric width!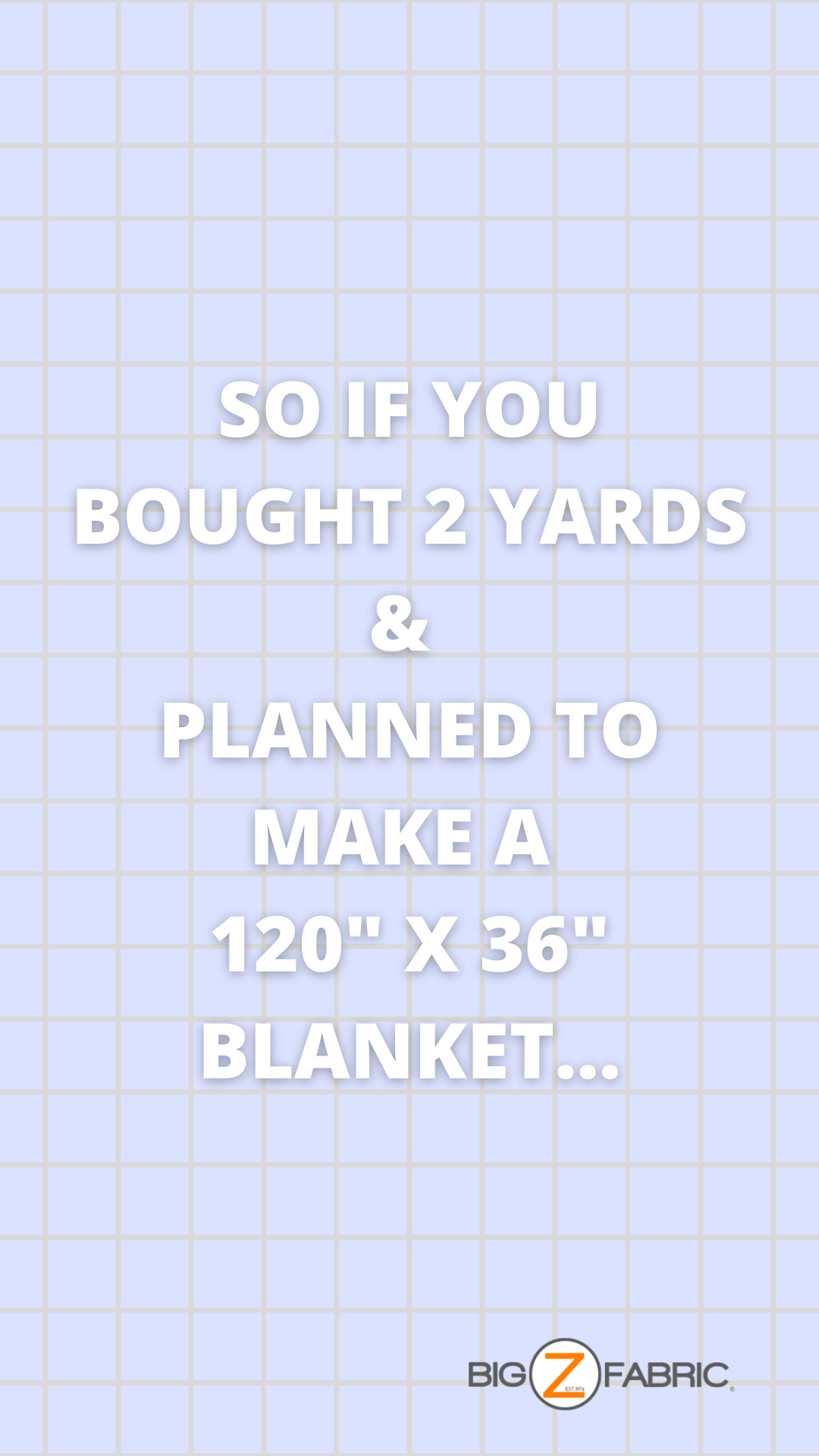 Okay, so in our example the customer bought 1 yards of fabric length or 36″ length. But let's say they wanted a 120″ wide blanket. The customer might assume that they could just buy 1 additional yard thinking:
1 yard of fabric has a 60″ width
so
2 yard of fabric would have a 120″ width
if they were sewed edge to edge (making a 120″ x 36″ blanket)
Unfortunely, this would not work….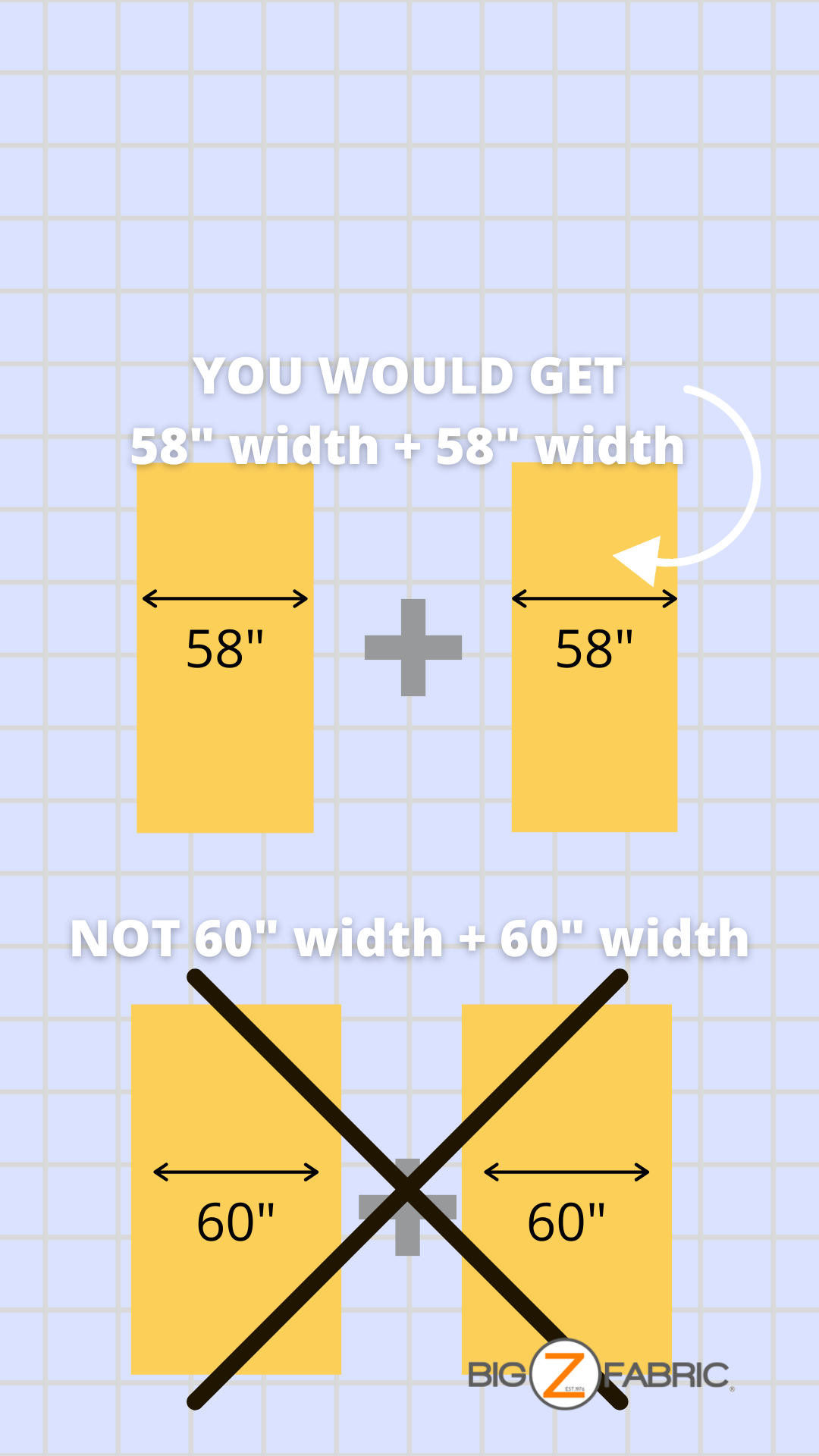 So remember our terms from above. What the customer makes the mistake of assuming is that net width = gross width. Not in this case! We have to account for the loss of usuable width on EACH YARD of fabric. This means that you would have the following:
Yard 1: 36″ length (good). 60″ gross width minus 2″ (1 inch on each edge) = 58″ net width. So you end up with a 36″ length x 58″ width
Yard 2: 36″ length (good). 60″ gross width minus 2″ (1 inch on each edge) = 58″ net width. So you end up with a 36″ length x 58″ width
If Yard 1 and Yard 2 are placed side by side: 36″ length overall (good). 116″ width (58 + 58)
So the customer would be short 4″ if they wanted a 120 inch width blanket of fabric!
How do you ensure you order the right amount of fabric?
First, our sales staff is there to assist you. You can chat, call, email…whatever works best for you. We can help you plan out your order. You should also consider ahead of time how you plan on putting together your work. Perhaps you could sketch out a rough estimate of your cuts, stitches, etc. Play around with rotating the fabric dimensions to make the most of each inch. As you work on more complex projects that require unique shapes and patterns of fabric this skill will become more useful. You will start to learn how a left over bit can be used for another application or perhaps used in other creative ways.

We hope this simple guide helps you determine what the right amount of fabric is to order. If you need to know how many yards you should order and aren't sure if you're ordering enough please reach out to our team and we will be glad to assist you!