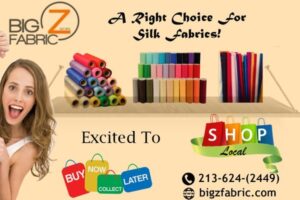 Big Z Fabric is an online fabric warehouse that features collections of the latest fashion trends with affordable price points. In the LA Fashion District, there are an estimated wholesale fashion vendors. These types of vendors supply fabrics and other goods to boutiques, department stores, and local up-and-coming designers. The fashion industry in Los Angeles is one of the largest in the nation which generates over $18 billion and employs almost 100,000 people. There are over 3,700 independent fashion designers based out of Los Angeles who are searching for the perfect fabric for their creation. There are more fabric stores in Los Angeles compared to New York. Big Z Fabric is one of the largest fabric stores.
For any designer that is starting out, the Los Angeles fabric market is a great place to start. Fabrics are plentiful and very affordable. This allows the designer to experiment with patterns and prints to create new designs.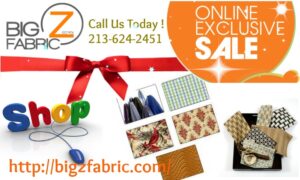 We invite you to shop around Big Z Fabric and choose your favorite items. We guarantee that our prices are competitive you're getting the best deal. We look forward to building relationships with designers so that we can stock the items you are looking for, so keep us informed of your needs. Also, shop our sales and closeouts. You may be able to find an incredible deal on a large quantity of fabric that is beign discontinued.
Visit bigzfabric.com to learn about our latest sales of the month and our newest arrivals. When you enter your email on bigzfabric.com, you will receive 5% off your purchase. Enjoy this discount on your purchase of our high quality items!
Shop Now >> Fabric Online Store