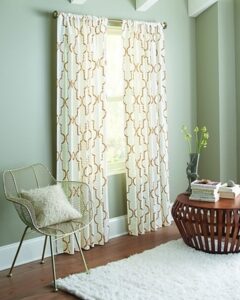 How do you choose the right color and fabric for your curtains? Home designers say that curtains add a certain character to a room, but only when the right color and fabric are chosen. This also means that the fabric length and lining also has to be part of the winning equation. There are so many decisions to make and so many routes to select the right curtain fabric options for your home.
At Big Z Fabric, we have a wide selection of fabric, which is the most essential part of choosing curtains. In this case, the fabric will dictate the functionality and durability over time. For example, if you choose a heavy fabric or fabric that is too light, then the curtains will not fall correctly. Most home designers recommend holding fabrics up to the window to get a feel of how it looks next to the window and furniture, and to see how it contrasts with the wall color. A good tip is to fold the fabric sample, usually a few yards, and let it drape down to get the feel of a draped curtain.
If your room gets a lot of sunshine, keep in mind that the fabric most likely will fade over time. In that case, we suggest to opt for fabric with neutral colors to reduce any fading effects. We also recommend using fabrics such as tweed, linen, silk or velvet, which are all available online at Big Z Fabric. Keep in mind if you want a heavy fabric to keep the sunlight out and whether you will line the curtains. Lining curtains allows the fabric to look fuller.
Also, you need to determine the length of the curtains, which can add a dimension of height to the room. Most designers will hang curtains between four to eight inches above the frame of the window.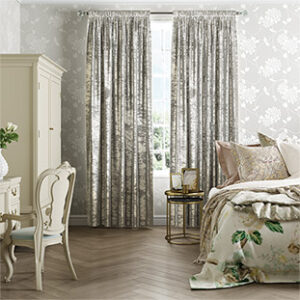 We recommend Crushed Chenille Everest Fabric, available in a variety of 16 vibrant colors at Big Z Fabric for $26.99 per yard. This Chenille fabric made from 100% polyester, is similar to velvet fabric, has a soft short fuzzy feel, and absorbs and reflects light very well. This fabric is a good choice for upholstery and curtains.
We also recommend Solid Wavy Organza Fabric available in different bold colors for $10.99 per yard. The organza fabric, made from 100% polyester, is a very light yet thick material due to its wavy pattern. This organza material shines and reflects making it more attractive and elegant in style.
Time for the curtain call. Choose the fabric for curtains that is right for you online at Big Z Fabric. As always, we want to see your creative designs.
Browse Collection >> Curtain Fabric