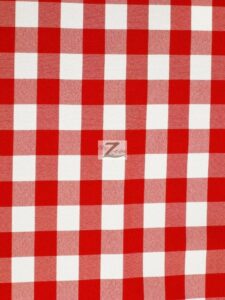 Gingham is currently a trending fabric.  Gingham is a medium-weight balanced fabric made of plain woven material and cotton blends that are dyed to make a checkered pattern of squares in most any color. Currently, Harpers Bazaar Magazine is featuring an updated retro "adult style" gingham dress by top designer Altuzarra. Other hot designers such as Oscar de la Renta, Michael Kors, Polo Ralph Lauren, Diane von Furstenberg and Proenza Schouler are also showcasing gingham style in their 2015 collections. The new gingham look pulls together an all-American look with a classy European flare reminiscent of the 1950s.  Big Z Fabric recommends trying these projects using gingham fabric available online.
Make a gingham pillow to coordinate with your living room sofa.
Create a gingham blouse which will dress up a regular button down shirt.
Design a gingham maxi skirt or dress that will flow in the ocean breeze.
Make a gingham clutch that will be a perfect summer accessory.
Design a 50s style inspired bathing suit using gingham fabric.
Decorate your phone case with fabric gingham pattern.
Create gingham fabric frames in different colors to display your summer memories.
Design your babies' nursery in gingham baby blue or gingham baby pink.
You can choose Big Z Fabric's Checkered Gingham 100% Polyester Poplin Fabric which is available in an assortment of vivacious colors and sold by the yard. Printed poplin is a versatile and superior quality fabric that gives a corded surface which makes it easy to work with.  This gingham poplin fabric can be used for clothing, such as shirts, handkerchiefs or foundation garments, as well as bedspreads, window shades, pillow cases, and the list goes on.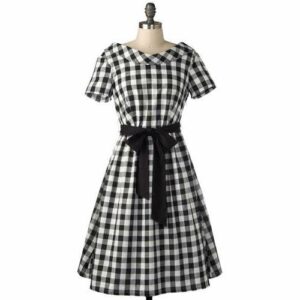 Another one of Big Z Fabric's products is Mini Checkered Gingham Poly Cotton Printed Fabric, also available in a variety of colors and sold by the yard. Big Z Fabric's Mini Checkered Poly Cotton is made from a blend of 65% polyester and 35% cotton.
Gingham is a pretty all-American classic fabric that is suitable for all occasions and it almost never goes out of style. It really is a fabric that anyone can pull off and it matches to jeans, khakis, cargoes, etc. Men and women look great in the pattern and kids look adorable in it as well.
Checks mate! Get your gingham projects showcased online on Big Z Fabric's Facebook page. Big Z Fabric will reward you with a coupon code for future online purchases! Checks, please!
Browse Collection >> Gingham Style Fabric