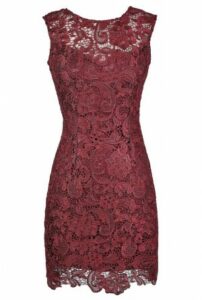 Want to be the show stopper at the Thanksgiving dinner, Christmas dinner or any holiday party? How about making a grand entrance in a gorgeous Paisley Christmas Holiday Lace dress that guests will talk about well into the New Year!
Available in classy colors like black, dark gold, fuchsia, ivory, and of course, red, the Floral Paisley Guipure Venice Lace Fabric is new to the Big Z collection but this eye catching fabric is bound to be the life of the party this season. Made from 100% polyester, Guipure Lace is also called Venetian lace, or Chemical Lace. It is a firm, stiff lace with no net background that features a distinct pattern made by a series of closely packed embroidery stitches onto a fine fabric. This fine fabric then disintegrates in the finishing process so that the backing fabric cannot be seen in the finished piece.
This unique design is what makes Paisley Guipure a highly popular choice for fashionable dresses and gowns that rival the magnificence of a red carpet entrance. It is also useful for making home decorating art, trims, clothing accessories and more. The fabric has a slight stretch and comes in a width of 50 inches. It is sold by the yard and in continuous yards.