Spring and Summer are approaching fast. Shaking off the cold weather and losing the jacket means that you will be spending more time outside in parks, on the beach, or enjoying a drink on an outdoor patio.  We think it is a perfect time to show off your creative side and make yourself a unique bag out of our custom canvas fabrics.
Maybe something like this…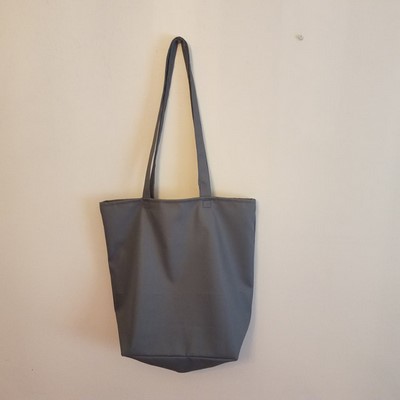 Make a custom tote bag with our waterproof canvas fabric
Made by Myeong Hee Woo and sent to us with pride we have an example of versatile tote bag made by our happy customer. We think this is the perfect type of project for all skill levels.  We even think it is appropriate for people that have no experience with working with custom fabrics.  As long as you have the ability to stitch and sew we think you could create a very similar bag with a little time and effort.
You could bring this bag with you for fun, shopping, and storage.  It is made from our collection of unique fibers and the color you choose is fade resistant and offers anti-UV and 100% waterproofing.
You could get creative and add some additional color if that suites you. We have a large collection of different canvas fabrics that come in different colors and textures.  We sell all our fabrics in bulk and by the yard if you need to make more than one bag.  If you can make one bag for yourself you could make similar tote bags for your teammates, friends, and family.
Our canvas fabrics offer the following traits which make them perfect for small bag projects like this or for larger uses like outdoor umbrella coverings, outdoor furniture covering and more.
Waxed Cotton
Waxed Cotton is cotton impregnated with a paraffin or natural beeswax, based wax, woven into or applied to clothing. This industrial fabric is made up of 100% Cotton including a width of 58″/60″. Moreover, this item is waterproof weighing in at 14oz a yard ideal for clothing, accessories and outdoor purposes just to name a few. This fabric like the rest of our product is sold and shipped by the yard and in continuous yards.
We have a selection of very versatile patterns and colors of waxed cotton fabric like our 100% Waxed Cotton Tartan Plaid Canvas Fabric.
Deck / Outdoor
Solid Canvas Outdoor Waterproof PVC Backing Fabric is a very cost effective and durable outdoor fabric with PVC backing to make it stronger than regular outdoor fabric. Made from very unique fibers and 100% Waterproof this solid PVC backing outdoor fabric is stain resistant, water repellent and washable. This outdoor fabric is sold by the yard and in continuous yards
Our customers have made some great deck furniture projects with our fabrics like this Premium Lattice Canvas Outdoor Fabric which can be used for a fun deck umbrella.
Anti UV
Solid Canvas Outdoor Anti-UV Waterproof Fabric is a very cost effective and durable outdoor fabric. It has many outdoor uses such as outdoor furniture, pillow casings, outdoor umbrellas, boat covers, etc… Made from very unique fibers, the color is fade resistant to the harsh condition of the sun. It is also Anti-UV and 100% Waterproof.
You can find great anti UV fabrics here like our  Solid Canvas Outdoor Anti UV and Waterproof fabric.