We're excited to begin highlighting our customer projects as they are shared with us.  We sometimes get some great photos of projects that our customers have made.  Our hope is that you get inspired to make something yourself and experience the joy and satisfaction that our happy customers have have when working with all our fabrics and patterns.
Cute Polar Fleece Fabric Candy Corn!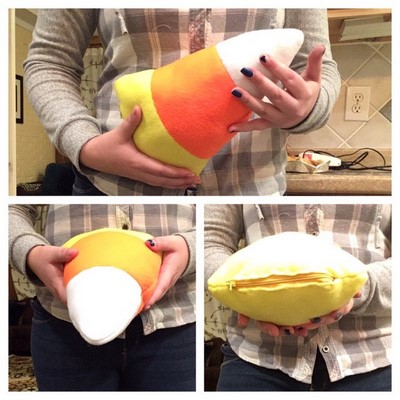 This comes from our friends over at JFUFurry Sales!  These guys are no strangers to coming up with creative fabric uses and demonstrate that in this neat and simple project.  This project was made by using our polar  fleece fabrics.  These fabrics are great for cuddly projects like this stuffed candy corn.
Our fleece fabric is  intricately woven, it is made to maximize warmth and to feel of superior quality. The solid colors used in this project are also a light type of fabric that is easy for beginners to sew and work with.  This is made of 3 of the many different colors and prints that are available in our store.
You could have just as easily made this candy corn out of a baseball print fleece (great for the 2017 Baseball Season!)  You can shop for bulk sports fleece fabric and find your favorite teams like the Los Angeles Dodgers Fleece Fabric or the Yankees Fleece Fabric
We are always offering sales and clearance pricing on these fabrics and more so you should check our store often to see if inspiration and savings strike at the same time!  Check out our Discount Fabric Online .
We hope to also start with some simple how to's to help beginners create as well.  One thing that Big Z Fabric prides itself on is our willingness an openess to talk with you on the phone to help you find and purchase the right fabric for your project.  Please contact us or reach out to us on social media for any reason!  Thank you for creating and shopping with us!