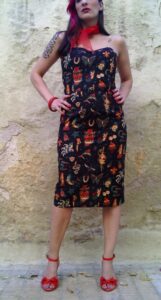 Are you into the glamorous Gothic fashion? We hear you! As we are also in awe of this amazing fashion and the Gothic style cotton fabric made by famous Alexander Henry textile house that can be used to make unique dresses, skirts, blouses and more.
Gothic fashion is so versatile that it can be sported at any gathering or event. So, we have brought you a great Gothic dress made by our Alexander Henry's tattoo cotton print. This black dress with its awesome design containing skulls, sharks and snakes will help you represent the true Gothic in you. The high quality cotton fabric will give you comfort day and night while you impress everyone away with its unique colorful design.
Our tattoo cotton print has a width of 45 inches and today we have it for a low price of only $9.99 per yard. So, go ahead and get our Alexander Henry Tattoo Print Cotton and be on your way to make a custom-made Gothic dress to rock the next party, date or gathering in style. To order this print call us today at 844-BIG-Z-FAB (244-9322).
Buy Now >> Alexander Henry Tattoo Print Cotton Fabric Black
Buy Now >> Alexander Henry Tattoo Print Cotton Fabric Tan