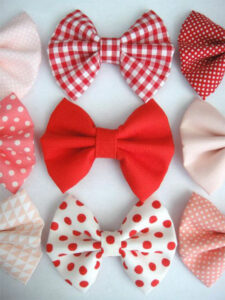 Do you love accessories for your little girl, but don't want to spend ridiculous amounts of money on hair bows? Why not make some yourself? We found do-it-yourself no-sew fabric hair bow tutorials online with some of the cutest ideas for hair bows. You can't go wrong, in fact, you may get addicted and create some amazing and unique designs. It's not only easy and fun, but you can include your daughter in on the fun.
Big Z Fabric has a wide selection of fabrics and new arrivals every day. The stock available at Big Z Fabric is second to none and the prices can't be beat. Whatever your need, whatever your design and creation, chances are that Big Z Fabric has the product for you.
You can create no sew fabric flower bows and hot glue buttons, sequins or beads to add a little sparkle to the creation. Glue them onto clips or hair ties and you have a special accessory. You can use fabric in any color or print. Be creative and use lace, satin, chiffon, silk, velvet, organza, cotton or any combination. The great thing is, you can use any fabric you have or use scraps from other projects you are working on.
We recommend Big Z Fabric's High Multi Chiffon fabric in Dusty Rose which is a beautiful see through fabric and it has a smooth texture.
This is a high quality piece and the colors available are vibrant and gorgeous. The fabric is easy to work with for any project, especially for the intricate details of tying knots and making bows.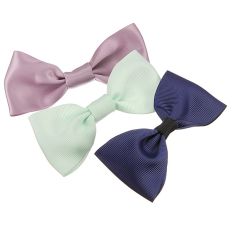 One of our favorites is Big Z Fabric's Solid Charmeuse Silk fabric in pink. This silky fabric is lightweight, shiny, soft and luxurious. Perfect for any little girl's hair, this fabric is high quality and has an ombré look to it. If you're looking to design a dress with a matching hair piece, this is the fabric for you.
We also recommend Big Z Fabric's Sweet Peony Flora Lace fabric in coral (also available in an array of beautiful colors) is a beautiful lace made up of a floral embroidery design with a mesh backing and scalloped edges. This fabric would be suitable for a beautiful headband or bow to accessorize a dress for a festive occasion.
So simple, colorful and so joyful! Share the cuteness of your fabric bows with Big Z Fabric's Facebook page and you will receive a promo code from us on your next order.