Welcome to the Big Z Fabric Blog! Big Z Fabric located in Downtown Los Angeles carries one of the finest and largest selections of sequin fabrics in the area. We are family owned and we want all our customers to feel like family. Everyone needs a little glitter in their life, so we are excited to showcase sequins in this blog. We love that this shiny little bead can be used to jazz up any exciting decoration, outfit or craft to create a romantic and contemporary chic look.
Big Z Fabrics has a sizeable inventory of sequins, which come in a range of vibrant and dazzling colors which are chic, stylish, and very well priced. We love the projects you can make with shiny and iridescent sheens which gives some life to your creation. Whether you use it for ornamentation or to enhance any fabric, you will be thrilled with the embellishments this little gem can make. Big Z Fabrics sells sequin fabric by the yard that you can use to create clothing and costumes, accessories such as belts, shoes, handbags. And don't forget jewelry and hair accessories that you won't have to pay a fortune for. We also recommend using sequin for crafts around the home, such as decorative throw pillows, lamp shades, and drapery. Whatever you select, we at Big Z Fabric are sure that you will be happy with our selection of sequins in vibrant and unique colors so you can turn your crafts into a work of art. We also have several sequins that vary in width and styles. So start your creation today using our glittery sequin shimmer.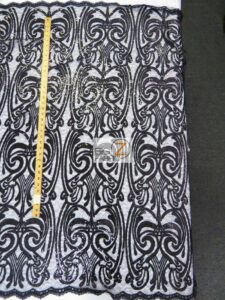 There are so many possibilities for sparkly crafts and homemade gifts that you make that are inexpensive and beautiful. We would love to see some of your creations. Let Big Z Fabric add sparkle to your life and check out the great selection of sequin, and all our other fabrics, at www.bigzfabric.com. We are here to answer any of your questions so contact us at any time at bigzfabric@gmail.com and we will be happy to assist you. Welcome to the Big Z Fabric Family!
Popular sequins fabric
>> Angel Damask Sequins Sheer Lace Fabric (13 colors available)