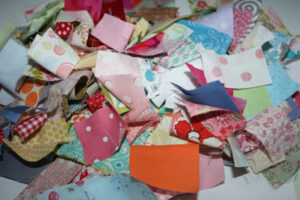 Ever wonder what to do with all your fabric scraps once you finish your project? Big Z Fabric has a list of interesting and creative ideas for your stash of scraps. While some of you may like to make quilts out of fabric scraps, we tried to come up with solutions that are entirely different. Big Z Fabric has tons of swatches of fabrics that you could even order online to sample before you buy by the yard. But in the meantime, you can work on different projects with the scraps you do have, whether it is lace, satin, cotton, organza, nylon, or linen.
Fabric Keychains
These make cute housewarming gifts or thank you gifts. If you're thinking ahead, this makes a great stocking stuffer for the holiday season. It is also a creative way to keep your keys chain bright and in sight so you can spot them in a pinch.
Fabric Journals
If you love to journal, this is a perfect way to add a personal touch. There is something about writing by hand and people who journal know how special the perfect journal is. A fabric journal would make a personal and sentimental gift that a friend will be sure to treasure. For this you will need any types of fabric straps you have, lace, thread, sewing machine, and scissors. Oh, and of course a journal! Happy journaling!
Fabric Scrunchies
What a perfect way to add color with a scrunchie. Accessorize your hair with fun fabrics that accentuate your outfit. This is perfect for little girls with long hair. They will be the envy on the playground.
Fabric Scrap Banners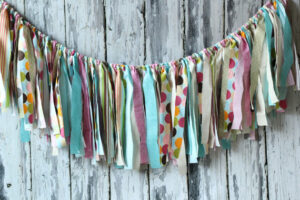 Perfect for birthdays, weddings or any other festive occasion. Create a whimsical theme consistent with the color scheme you are going for. Make a perfect fabric scrap banner backdrop for photos, desert tables or birthday decorations. You can use wide strips of fabric scraps in similar colors or get creative by mixing and mingling different patterns. One of our favorite uses for fabric scrap banners is for the groom and brides table to distinguish "Mr." and "Mrs." which will be a great highlight in the wedding photos.
Some other ideas you can try include fabric scrap coasters, which are washable (That's a win-win situation!); fabric scrap notecards; and fabric scrap tote bags.
We want to see your creations. Don't forget to post your fabric scrap ideas and projects on the Big Z Fabric Facebook page and we will reward you with a coupon code for future online purchases!