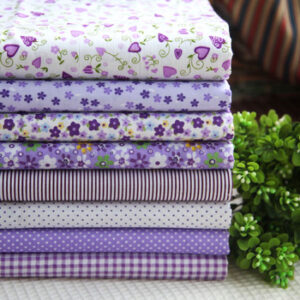 Big Z Fabric located in downtown Los Angeles, in the hub of the fashion district, has a beautiful collection of bright, colorful and modern fabrics in pre-cuts as well as bundles by the yard. Big Z Fabric has a great assortment of quality print fabrics, from various well known designers, with fun characters, vibrant colors and unique patterns. Big Z Fabric is your one-stop shop for all your fabric needs, whether it is for a quilt or for a ballroom gown.
Whether you are an expert at making quilt or you've never used a sewing machine before, a quilt is one of those pieces that you will cherish forever. Picking the patterns and being inspired by colors to choose the right fabric is the start of the fun and creativity.
Choosing fabric is the most important or intimidating part of quilting. Using high quality 100% cotton or a cotton with polyester blend. Just keep on mind that different fabrics will wear in different ways over time. There is no need to pre-wash fabrics; however, if the fabric is of low quality, then you should pre-wash the fabric before you start cutting.
Big Z Fabric currently stocks a beautiful Fleece Printed Animal Fabric (Animal Jungle Quilt) in pastel colors with adorable baby animal zebras, monkeys, giraffes, and elephants printed on the fabric. The polar fleece fabric is very soft, durable and thick. The intricate fabric is woven to easily provide warmth. The fabric is easy to work with and sew to make a baby quilt and it has a special anti-peel to prevent fleece balls due to wear and tear.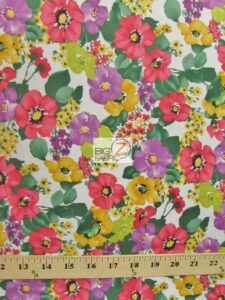 Another fabric we recommend using for a quilt is the colorful and vibrant 100% Cotton Quilt Novelty Prints Fabric in Fuchsia Flowers Bursting by Hoffman California. This fabric, sold by the yard for $10.99 a yard is made from 100% Cotton and is a high quality piece that is light, breathable and soft to the touch.
You can also post your creation online and save! Share your fabric projects, such as your gowns, blanket, costume or anything else you created on Big Z Fabric's Facebook page, share it with the world (facebook.com/BigZFabric) If you want to order call us at 213-745-BIGZ (2449)